Authorization service REST API methods¶
You can read more about working with REST API in this section. The authorization service REST API methods are accessed via HTTPS protocol. Methods are closed by authorization and are marked with the

icon.
Ways of authorization¶
Depending on a used authorization method different values for access to the node REST API are set.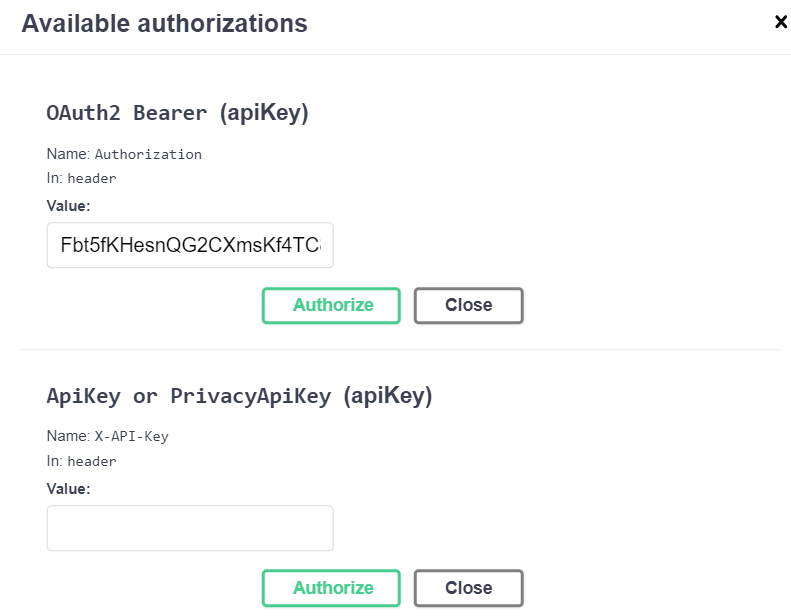 OAuth2 Bearer (apiKey) - access value of the token.

ApiKey or PrivacyApiKey (apiKey) - api-key-hash value for shared access to the node REST API, as well as for access to the privacy methods.
Api-key-hash

authorization¶
Generation of an api-key-hash query is set during the node configuration. The value of the rest-api.api-key-hash field can be also obtained with the use of the /utils/hash/secure method of the node REST API. In order to sign queries with a node keystore key, set a keystore password in the password field of the POST /transaction/sign query.
Query example:
curl

 

-

X

 

POST




--

header

 

'Content-Type: application/json'




--

header

 

'Accept: application/json'




--

header

 

'X-API-Key: 1'

 

-

d

 

'1'

 

'http://2.testnet-pos.com:6862/transactions/calculateFee'



Token authorization¶
If the authorization service is used, the client receives a pair of tokens, refresh and access for access to the node. Tokens can be obtained via the REST API of the authorization service.
The POST ​/v1​/user method is used for registration of the user. Following parameters are passed to the input:
login - user login (e-mail). A user e-mail is used as a login.

password - account password.

locale - language of e-mails. Possible variants: en and ru.

source - user type. Possible variants: license and voting.
A user receives tokens only after registration.
In order to obtain and update tokens, following methods are used:
POST ​/v1​/auth​/login - obtaining of an authorization token with the use of login and password. This method is used for authorization of users.

POST ​/v1​/auth​/token - obtaining of refresh and access authorization tokens for services and applications. The method does not require parameters, and in reply sends token values. The method can be used only by administrators of authorization service.

POST ​/v1​/auth​/refresh - updating of the refresh token. Token value is passed for input.
Authorization service methods¶